Chanukah Stamps
Click Here for More Holiday Articles

The holiday of Chanukah has so gained in popularity in the United States as evident by the post office Chanukah honoring stamps that have been and continue to be issued regularly. All this, despite the Jewish people's miniscule numbers, relatively speaking, representing just about 2% of the U.S. population

The "Hanukkah Stamp", the first stamp to be jointly issued by Israel and the United States, was launched on Tuesday, October 22, 1996. This stamp is the first U.S. stamp to recognize a Jewish holiday. Both countries feature the same design. The U.S. version contains the English spelling of "Hanukkah" and the Israeli stamp features the Hebrew spelling.

The Chanukah stamp was designed by Hannah Smotrich, a graphic designer and instructor at the Corcoran School of Art in Washington, D.C., and Board Member of the Washington Chapter - American Institute of Graphic Arts. Smotrich created the stamp design using pieces of cut colored paper, a medium she has used to create cards for family and friends. Smotrich paid particular attention to the choice of colors for the candles and background "to emphasize the upbeat nature of a playful, joyous holiday."

Hanukkah is also known as the Festival of Lights and the Maccabee Holiday. The lighting of the Hanukkah candles has become a symbol of the victory of light over darkness, of bravery and the struggle for freedom of faith and national liberty of a people in their homeland, the few battling against the myriad.

The U.S. Postal Service which is scheduled to issue new Holiday Celebrations series stamp each year reflecting a different cultural or ethnic holiday, will print 142 million of the Chanukah stamps.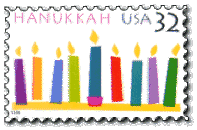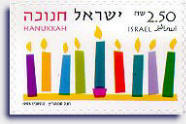 On October 24, 2008, in New York, New York, the Postal Service™ issued a 42–cent, Hanukkah special stamp designed by Ethel Kessler of Bethesda, Maryland.

This stamp design was previously issued with a 37–cent denomination in 2004, a 39–cent denomination in 2006, and a 41–cent denomination in 2007.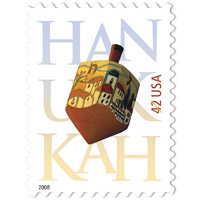 Mazor Guide for Chanukah brings you much more about the holiday, its meaning and its traditions... See the links below.