Yom Yerushalayim: The Reunification of Jerusalem


Israel's Eternal Capital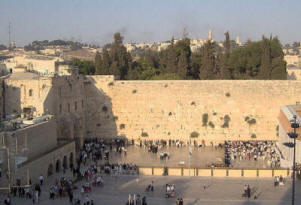 Yom Yerushalayim "יום ירושלים" (Jerusalem Day) is the most recent addition to the Hebrew calendar as an Israeli and Jewish national holiday, celebrating the reunification of Jerusalem, every year on the 28th day of Iyar. The Chief Rabbinate of Israel declared Jerusalem Day a minor religious holiday to thank God for the victory of the six-day-war, and for answering the 2,000-year-old prayer of "Next Year in Jerusalem".

Yom Yerushalayim celebrates the reestablishment of Jewish sovereignty over the Jewish capital that was destroyed by the the Romans in the days of the second temple. Since the Roman destruction, Jerusalem, though always home to a Jewish community, has been ruled by foreign hands. Jerusalem is the eternal capital of Israel, first established by King David, the Jewish king that conquered it and built it as the seat of his monarchy in approximately 1000 B.C.E.
Yom Yerushalayim is marked by state ceremonies, memorial services for soldiers who died in the battle for Jerusalem, parades through downtown Jerusalem, reciting the Hallel prayer in synagogues, lectures on Jerusalem-related topics, singing and dancing, and special television programming.


Mazor Guide to Yom Yerushalayim brings you much more about the holiday, its meaning and its traditions... See the links below.
MazorGuide Recommended Reading
- A House of Prayer for All Nations: The Holy Temple of Jerusalem ~ by Chaim Richman
- Letters from Jerusalem 1947-1948 (Paperback) ~ by Zipporah Porath
- The Story of Israel - Special Edition: From Theodor Herzl to the Roadmap for Peace ~ by Martin Gilbert
- Tales Out of Jerusalem: Seven Gates to the City ~ by Rabbi Emanuel Feldman