Mazornet's Jewish Book Club
An Empire of Their Own : How the Jews Invented Hollywood
by Neal Gabler (Crown Publishers, Inc., New York, 1988)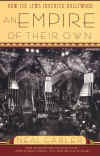 The majority of the eastern European Jews who found success in business at the turn-of-the century United States, did so in the garment industry. However, a handful of those immigrant entrepreneurs enhanced the fabric of life by weaving into the American universe a world of fantasy and illusion. They would later be known as the Hollywood Moguls.

The most notable amongst those Hollywood Jews are Carl Laemmle who founded Universal Studios, Adolph Zukor, the creator of Paramount Pictures, William Fox, the builder of the Fox Film Corporation, Harry, Sam, Albert and Jack, the Warner Brothers, Marcus Loew of the Loews Theaters, Harry Cohn, president of Columbia Pictures and Louis B. Mayer, head of the greatest of all studios, Metro-Goldwyn-Mayer. The Hollywood Jews' incredible saga, their evolution and growth into money and power, and their eventual decline, are skillfully depicted in Neal Gabler's engrossing book, An Empire of Their Own.
"The Hollywood Jews, at least the first generation that built the industry, were a remarkably homogeneous group with remarkably similar childhood experiences," writes Gabler. An undeniable factor they had in common, was a "patrimony of failure." They grew up in extreme poverty and privation. Their fathers, (with the exception of Zukor, fatherless from a young age) were luftmenshen; men who could not hold on to a job, and often short of funds. The sons, who speak lovingly of their mothers, are either silent or distinctly hostile toward their fathers.

Carl Laemmle, the elder statesman of the Hollywood Jews, was born in 1867 in Laupheim, a small village in southwestern Germany. Following the death of his beloved mother, Laemmle, at the age of sixteen, immigrated to the United States to seek his fortune. After a succession of youthful meanderings as a furrier apprentice in New York, an errand boy in Chicago, a supernumerary in a production of Julius Caesar, a farm hand in the plains of Dakota, a clerk in a jewelry store, and a bookkeeper for livestock buyers, he finally attained some success in Oshkosh, Wisconsin as branch manager of the Chicago Continental Clothing store. In 1905 Laemmle was named as one of the Oshkosh's outstanding citizens. But at the time, approaching his fortieth birthday, restlessness and discontentment once again permeated his being. He traveled to Chicago where his request for a monetary recognition of his contribution to the firm ended with his resignation. It was then, distraught and once again unemployed, that Laemmle decided to open his first movie theater.

Adolph Zukor was born in Risce, Hungary. When he was a year old, his father died; Seven years later, his mother too succumbed to the angel of death. Thus, after several years under the guardianship of an unsympathetic uncle and an apprenticeship in a dry good store, sixteen-year-old Zukor petitioned for and was awarded by the Orphans' Board a ship's passage to the United States. Upon arrival, Zukor embraced his new homeland with fervor. He attended night school, took up boxing, and became a passionate baseball fan. Like Laemmle, he roved through a myriad of occupations. He tackled batting over springs in an upholstery shop, he apprenticed at a furrier's, and later he became a "contract" worker, designing, sewing and selling fur pieces himself. In 1892, Zukor moved to the Midwest, where he established the Zukor's Novelty Fur Company. In 1903 as the co-owner of Kohn & Company, Zukor was financially established, but like Laemmle, restless and unsettled. It was then that Zukor convinced his partner, Morris Kohn, to invest in an arcade on Fourteenth Street in New York. At the end of the first year, Kohn and Zukor, having expanded their Automatic Vaudeville with new arcades in Newark, Boston and Philadelphia, cashed in more than $100,000 in revenue.

Marcus Loew, a friend and a co-investor in Zukor's Automatic Vaudeville, was born on May 7 of 1870, on the Lower East Side of New York - to a poor Viennese waiter and German widow with two sons from a previous marriage. As a child, to help with the finances of his family, Loew sold lemons and newspapers. At the age of nine he quit school and began working for a printing company. Later he ran an eight-page weekly newspaper, filling multiple positions in advertising sales, journalist, and editor. Loew, like many of his Lower East-Side co-religionists, also worked as a furrier in the garment industry.

Other famous Hollywood Jews, including Louis B. Mayer, Samuel Goldwyn, William Fox, the Warner Brothers, Harry Cohn, Jesse Lasky, the Selznicks and the Schenks, traversed similar courses. Bored with school, too spirited and restless for a routine and prosaic life, they jumped at opportunities, took risks, and in time accumulated wealth and power.

The Motion Picture industry, not yet countenanced by the Gentile monied elite who kept Jews and other undesirables out of the "respectable" loftier commercial ventures, was custom-tailored for these men. . Moreover, in the industry's infancy, opening theaters and producing movies did not require a large capital investment, a fact that enabled these bold, adventurous men to pursue the gold. Since most of the Hollywood Jews worked in the retail fashion industry, they had an understanding of public taste. They knew their audience - for they were the audience.

Interestingly, the quest for financial success was not the sole motivator for the Hollywood Jews, claims Gabler. In their effort to distance themselves from their fathers' failures, these men waged war on their heritage. "To escape their fathers' fate meant escaping the past." To escape their past, they rejected old-home customs, language, accent and tradition. To escape their tradition, they espoused a new style -- an America style. Louis B. Mayer went so far as to claim America's independence day, the forth of July, as his birth date. It is evident that the underlying force propelling these Jews into the motion-picture industry was the need for acceptance. Above all, the Hollywood Jews desired to be regarded as Americans. Not Jews.

"Within the studios and on the screen," writes Gabler, "the Jews could simply create a new country--an empire of their own, so to speak--one where they would not only be admitted, but would govern as well. They would fabricate their empire in the image of America as they would fabricate themselves in the image of prosperous Americans. They would create its values and myths its traditions and archetypes. It would be an America where fathers were strong, families stable, people attractive, resilient, resourceful, and decent. This was their America, and its invention may be their most enduring legacy."

Indeed, these men created "America" and American values. America the strong, the wholesome, the honorable, the upright, the incorruptible and the upstanding -- but definitely not Jewish. The studios were managed by Jews, but the films were mostly devoid of anything Jewish. The occasional Jewish characters in their films were often portrayed by gentile actors. Jewish actors, on the other hand, changed their names to obscure ethnic affiliation. So Jacob Krantz became Ricardo Cortez. Stella Adler became Stella Ardler. Sophia Kosow became Sylvia Sidney. Emmanuel Goldenberg became Edward G. Robinson. Julius Garfinkle became James Garfield and Muni Weisenfreund became Paul Muni.

Some Hollywood Jews admitted to shunning Jewish subjects to avoid "ruffling the goyim." Louis B. Mayer argued that priests are dramatic, where rabbis are not. Gabler asserts there was a deeper truth camouflaged behind these excuses. "Hollywood was itself a means of avoiding Judaism, not celebrating it."
Yet, Gabler's book should be celebrated. The author captures the era, the industry and its players with an unerring pen. The sound of reels turning, of money changing hands, of ushers, and of movie-goers jump off the pages. The bullying and contemptuousness of Harry Cohn, the mild mannerisms and affectations of Carl Laemmle, and the intensity of Louis B. Mayer are palpable. The tension created by the Hollywood Jews' constant attempt at assimilation, and the unwillingness of the Gentile world to accommodate this desire, is compelling. It is also paradoxical.

The Hollywood Jews succeeded in promulgating the fiction of America by idealizing and glorifying its every cliche, truism, banality and platitude. They created a lordly image and impressed it upon the nation's and the world's imagination. "American values came to be defined largely by the movies the Jews made . . . by creating their idealized America on the screen, the Jews reinvented the country in the image of their fiction." Says Gabler. The movies are quintessentially American, yet those who created them were not. Indeed while Americans embraced their work, Hollywood Jews remained outsiders. Hence the paradox.
---
Read the "An Empire of Their Own" and would like to comment?
Send Your thoughts to: empireoftheirown@mazornet.com. Tell us if you want your comments and (or without) your email posted.
Join the MazorNet JEWISH Book Club -- Click Here
Suggest a book for the book club: write to BookClub@mazornet.com
Write your comments about the featured books to BookClub@mazornet.com
Buy "An Empire of Their Own" - Click Here